Passenger Terminal EXPO app
FREE Passenger Terminal EXPO app for iOS and Android:
The app will be available to download a few weeks prior to the event
You will be notified by email when the 2018 app is ready for download
The app will be available via the Apple App Store and Google Play Store
If you have the iOS app for PTE 2017, it will update to 2018 automatically and you will be sent a push notification when it's ready
The app will provide important features to help you fine tune your schedule, making the most of your time with us:
A full conference programme, which you can tailor to your preferences, with dates, times, notes, rooms, reminders, etc.
A full exhibitor list and floor plan with exhibitor contact details, notes and reminders to plan your appointments, route, etc.
Complete information on the amenities available to you at the venue and much, much more!
Download buttons will be provided on this page when the 2018 app is ready.
Very interesting conference content and exhibition
Natalia Roj, Manager Issues and Risks, Hamad International Airport, Qatar
SKYTRAX
WORLD AIRPORT AWARDS
EXHIBITION HOURS
Tue 20 Mar - 10:00-18:30*
Wed 21 Mar - 10:00-18:30**
Thu 22 Mar - 10:00-15:00
CONFERENCE HOURS
Tue 20 Mar - 08:45-17:30
Wed 21 Mar - 09:00-17:30
Thu 22 Mar - 09:00-13:30

* Drinks Reception from 17:00 - 18:30
** Skytrax Awards from 17.30 – 18.30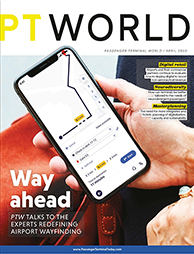 Click here for free magazine subscription + media pack