Visiting the show
A free-to-attend international exhibition with over 225+ exhibitors – make sure the dates for Passenger Terminal EXPO 2018 are in your diary!
If you are part of the aviation sector, a visit to Passenger Terminal EXPO will put you in touch with innovative suppliers and specifiers who can help you achieve your business objectives for 2018 and beyond. 
A unique event, bringing together airport and airline professionals  
Most events concentrate on either the airport or airline sector, but Passenger Terminal EXPO is uniquely designed to provide a powerful platform for the two groups to interact and share common issues.
Market intelligence – hot off the press 
As an independent world-leading platform for the passenger terminal industry, Passenger Terminal EXPO in Amsterdam will be the place to hear about the latest projects and industry trends and developments, see technology in action and catch up on the latest views of industry influencers. It is an opportunity to make informed purchasing decisions, and be one step ahead of the competition.
Who you will meet:

Exhibitor profile:

Visit the Testimonials and Review pages to see what visitors and exhibitors have to say!
The endless networking opportunities with colleagues and industry leaders provide a great way to learn from the best and provides a vast insight into where this industry is headed. Passenger Terminal EXPO is a place to get inspired!
Eva Maarend, Marketing Specialist, Tallinn Airport, Estonia
20, 21, 22
March 2018
Click here to enter these dates in your e-diary or Google Calendar
SKYTRAX
WORLD AIRPORT AWARDS
CONFERENCE HOURS
Tue 20 Mar - 08:45-17:30
Wed 21 Mar - 09:00-17:30
Thu 22 Mar - 09:00-13:30
EXHIBITION HOURS
Tue 20 Mar - 10:00-18:30
Wed 21 Mar - 10:00-17:30
Thu 22 Mar - 10:00-15:00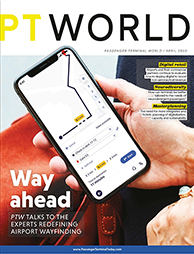 Click here for free magazine subscription + media pack