---
Passenger Terminal CONFERENCE & EXPO has been firmly supported by IATA for almost 15 years, and 2017 is no exception!
IATA will be supporting us by providing leading industry experts to speak at Passenger Terminal CONFERENCE.
IATA has once again concluded that Passenger Terminal CONFERENCE & EXPO is the largest and most international meeting of airports and airlines around the globe – and an opportunity for discussion and exchange of views that cannot be missed!
"PTE is always a great place to see the latest developments in our industry and to meet the key players. The room here had maybe 40 people put their hand up when I asked who's an airport. Just being able to pull the community together and talk about these common capabilities that we want to have in the industry, that's really a great thing to do. It's really a fantastic opportunity"
Andrew Price, Head of Airport Operations Management, IATA, Switzerland
"Great conference programme. I barely had time to attend all of the sessions!"
Jurgen Renner, Senior Manager, IATA Airport Consulting, IATA, Canada
"PTE is the biggest conference by far and it's where all our customers, all our potential clients, are. Our airlines are here, our airport members are here, so it makes sense for us to come here"
Paul Behan, Director, Passenger (Ex), IATA, Switzerland
First time for attendance and I was very impressed.
Jeremy Allen Mitchell, Service Assurance Manager, Sharjah Airport Authority, UAE
20, 21, 22
March 2018
ADD THESE DATES TO YOUR E-DIARY OR GOOGLE CALENDAR
SKYTRAX
WORLD AIRPORT AWARDS
EXHIBITION HOURS
Tue 20 Mar - 10:00-18:30*
Wed 21 Mar - 10:00-18:30**
Thu 22 Mar - 10:00-15:00
CONFERENCE HOURS
Tue 20 Mar - 08:45-17:30
Wed 21 Mar - 09:00-17:30
Thu 22 Mar - 09:00-13:30

* Drinks Reception from 17:00 - 18:30
** Skytrax Awards from 17.30 – 18.30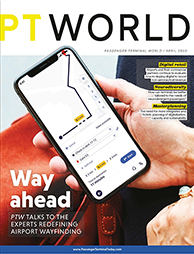 Click here for free magazine subscription + media pack