FORM SUBMISSION DEADLINE DATE:
» Wednesday 31 October 2018 «
2019 theme: Inspiration, innovation, collaboration - forging the future together!

Speakers at the Passenger Terminal CONFERENCE will examine the future outlook for airport development and operations worldwide, compare their experiences and discuss theoretical approaches and feasible solutions to today's concerns and those of tomorrow. They will provide case studies and insight into some of the world's most recent and complex projects. Extra discussion times will be included to enable highly detailed discussions to take place on specialist and technical subjects.
Airports, airlines, transport authorities, regulators and government agencies will be given priority
Are you working on a unique or challenging project that you would like to share with the industry?
Are you developing a new technology, theory or practice that could be implemented at airports in the future?
Are you planning a new and/or innovative development at your airport that you would like to share with the industry?
Do you have views on a current or emerging issue affecting the industry, which you would like to discuss?
Are you involved in a project that has brought beneficial results that others can learn from?
If your answer is 'yes' to any of these questions, you should join the other speakers at the conference who will be sharing their views and insights with an extensive international audience.
On-line using the Conference Presentation Proposal form you can:
Propose a presentation (paper)
Propose a panel discussion and panellists
See the paper guidelines and deadlines for details
For further information about speaking at Passenger Terminal CONFERENCE 2019 please contact Janine McEvilly, Conference Director, Passenger Terminal CONFERENCE at janine.mcevilly@ukimediaevents.com
26, 27, 28
March 2019
ADD THESE DATES TO YOUR E-DIARY OR GOOGLE CALENDAR
SKYTRAX
WORLD AIRPORT AWARDS
The endless networking opportunities with colleagues and industry leaders provide a great way to learn from the best and provides a vast insight into where this industry is headed. Passenger Terminal EXPO is a place to get inspired!
Eva Maarend, Marketing Specialist, Tallinn Airport, Estonia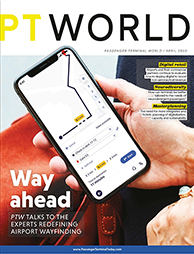 Click here for free magazine subscription + media pack