Free exhibition visitor entry badge &
Information request form 2019
Please Note: EXHIBITORS receive a different badge, please speak to your stand/booth co-ordinator to order your EXHIBITOR badge.
26, 27, 28
March 2019
ADD THESE DATES TO YOUR E-DIARY OR GOOGLE CALENDAR
SKYTRAX
WORLD AIRPORT AWARDS
The endless networking opportunities with colleagues and industry leaders provide a great way to learn from the best and provides a vast insight into where this industry is headed. Passenger Terminal EXPO is a place to get inspired!
Eva Maarend, Marketing Specialist, Tallinn Airport, Estonia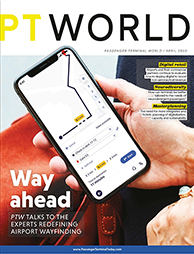 Click here for free magazine subscription + media pack