2008 Exhibition review
Passenger Terminal EXPO 2008 at the RAI in Amsterdam on 15, 16 and 17 April looked set to be the biggest Expo of its sort – and it didn't disappoint. With 3,500 attendees at the exhibition, including 850 delegates who listened to over 200 speakers at the conference, the trip to the country famous for its clogs and cyclists gave visitors the opportunity to have an exclusive look at the latest innovations in the airport terminal world.
Everything from security, baggage handling and ticketing to IT solutions, seating and boarding technology was on display by exhibitors who came from 200 of the industry's leading players... more
SKYTRAX
WORLD AIRPORT AWARDS
Every year we are amazed by the showroom floor. This was my fifth year attending and there were large vendors that we hadn't seen before, which is truly amazing. The conference had a great line-up and offers industry-relevant material that you can't find anywhere else. Thanks everyone for a great job!
Eric Kaler, Senior Director Airline Security, Hawaiian Airlines, USA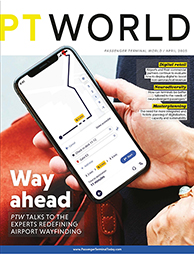 Click here for free magazine subscription + media pack