2008 Show review
"The conference and exhibition to attend!"
The Passenger Terminal EXPO 2008 held in Amsterdam from the 15-17 April was heralded by participants as "the conference and exhibition to attend!"
Passenger Terminal EXPO 2008 had over 3,500 attendees from 93 countries, confirming it's position once again, as the leading international conference and exhibition for senior airport and airline executives, CEOs, architects, engineers, key decision makers, suppliers and buyers from all over the world.
Opening the conference on the 15 April with 'The airport and terminal of the future", was Prof. Gerlach J. Cerfontaine, president & CEO, Amsterdam Schiphol Airport/Schiphol Group. Followed by 200+ high-calibre international speakers and with 900 conference delegates, it was an event not to be missed. An intensive three days was created where attendees saw the latest updates and innovations across all aspects of the business, gathered information, exchanged ideas and were provided unrivalled networking, all under the one roof!
Steven B. Cornell, Director, Airport Master Plan Program, San Diego County Regional Airport Authority, USA remarked: "Passenger Terminal EXPO should be on the top of everyone's list of must attend events. The speakers and vendors that attend truly provide the "out of the box" thinking needed in this rapidly changing and growing industry."
Eric Tan Wee Hua, Vice President, Changi Airports International, Terminal 2, Singapore "I have found Passenger Terminal EXPO to be the most insightful among all the conferences I have attended so far."
Andy Blackwell, Head of Aviation Security, Virgin Atlantic Airways, UK said: "Passenger Terminal EXPO is a valuable learning experience providing unrivalled networking opportunities"
Janine McEvilly, Conference Director, said: "Each year more and more airports and airlines come forward to speak at our conference, understanding that we provide an open platform to share ideas, discuss issues faced and provide knowledge to a huge international audience. The conference has been a phenomenal success. A always, I am proud to be associated with the chairmen and speakers, who have brought the industry such a wide array of insightful, current and inspiring topics. Our finger is never off the pulse when it comes to bringing attendees the very latest information and innovations and we will continue to build on this."
Andrzej Smith, Exhibition Sales Director, said: "Passenger Terminal EXPO 2009 is set to land in London, a world-renowned venue and key hub with connections to every corner of the globe. With over 75% of the Amsterdam exhibitors having already rebooked for next year, the exhibition is set to be by far the biggest and best ever held."
SKYTRAX
WORLD AIRPORT AWARDS
I thought the conference was great. There was heaps of good content and good-quality speakers. I took something away from every presentation
Shane de Wit, Director Commercial, Northern Territory Airports, AUSTRALIA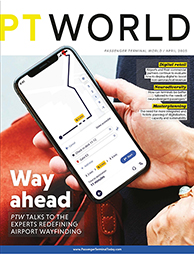 Click here for free magazine subscription + media pack