Passenger Terminal Exhibition 2011 - review
The 17th Passenger Terminal EXPO (PTX) took place in Copenhagen on 29-31st March 2011. Over 150 international companies exhibited, bringing together CEOs, architects, airport and airline executives, suppliers, key decision makers and buyers from across the world. The event provided an excellent platform for exhibitors to showcase their latest innovations and was well received by those who attended.
"I found Passenger Terminal EXPO to be a great way to search new business partners, to establish relations and get information about new airport equipment and terminals," said Dmitry Sumyatin, Export/Import Manager, Airflot Technics in Russia.
Here are a few highlights from the exhibition:
ARINC shows how to get ahead the Smart way

ARINC, a world leader in transportation communications and systems engineering, demonstrated a range of new products at PTX. Among these was mi-Flight, a mobile check-in and travel management smartphone application. With mi-Flight, passengers can check-in to multiple airlines using just one application, making it suitable for smaller airlines who do not currently offer a mobile check-in service, as well as major ones who wish to offer this functionality.
"This is the first application of its kind that allows one app to handle any airline," said Tony Chapman, Senior Director of Integrated Travel Solutions for ARINC EMEA. "This way you can store barcoded boarding passes for checked-in flights directly on the phone as well as departure and arrival information such as the locations of gates and restaurants."
In addition, mi-Flight has social networking inbuilt. This enables a network of travelers flying to the same destination or from the same airport to share their experiences of possible delays, noted bargains and anything else of mutual interest.
EasyRoller launches all-plastic wheelchair

One product that caught the eye of a number of visitors was a non-metallic wheelchair, manufactured by EasyRoller. The chair is made from environmentally friendly ABS plastic and helps speed up the security process by generating no signal from metal detectors. Since a metal wheelchair will always trigger an alarm, this leads to the seated being hand-searched or lifted from the chair. A plastic wheelchair restores the dignity of the wheelchair-user by allowing them to remain seated. The use of a plastic wheelchair also improves security and increased operational efficiency.
Developed by two Norwegian designers with experience in airport security, the EasyRoller has been shown in tests to be as durable as its metal counterpart and has already won a host of design awards. Its final testing phase was in December 2010. EasyRoller came away from the exhibition with a number of airport dealerships from around the world.
Greener FIDS with Infologic

With one eye on the environment and another on the bottom line, Infologic of the Netherlands used PTX to launch its brand new Green FIDS (Flight Information Display System).The system enables displays across the airport to be controlled individually and in the most economical way. Via a combination of energy efficient servers and the use of memory instead of networked information, an initial degree of efficiency is achieved. LCD displays are switched off during off peak hours, only to be switched back on when information needs to be displayed. This saves energy while extending the LCD's lifecycle. Finally, the FIDS software adjusts the backlights of the displays depending on the reproducible colours and light intensity on the display panels. Interdependency in display groups is factored in so that all displays adapt to the same intensity."Our customer Schiphol Airport has 2,500 display panels and they spend two million euros a year using them," said Rudolf Rijsdijk, CEO of Infologic. "If they deployed our new GreenFIDS system they would save 800,000 euros annually. The savings are significant."
New range of affordable designer counters from INTOS

INTOS Interior Contracting used PTX to launch its new off-the-shelf counter range, known as mono. The counters have been developed especially for smaller airports who don't have their own designer or architect. Each is made from thermally formed Corian and compromises a basic counter with add-ons, creating units for everything from check-in desks and information points to passport control and boarding gates. Each counter unit can be configured as stand-alone, in rows or islands."In the past we have found that most off-the-shelf counter ranges are just functional and are not designed in a way that looks nice," says Hans Matze, Airport Project Director for INTOS. "We decided to develop a new portfolio of products that looks attractive but is also price attractive."The counter was designed in close co-operating with BSQUARED, a innovative company with past experience in developing products for Schiphol Airport.
NCR and Ultra Electronics join forces at John Wayne
Back in 2009, NCR and Ultra Electronics announced their joint venture to help airports lower costs and meet growing passenger demand for self-service convenience. At PTX 2011 they were happy to discuss their recent award of the contract for the design, deliver and support of the IT systems at John Wayne Airport, as part of its Airport Improvement Program (AIP)."This is the first major win of the strategic partnership and it's a great template for future opportunities in North America and Europe," said Wayne Miller, Industry Director for NCR, Travel and Lodging.A key objective of the AIP is to ensure that the new facilities are designed and developed in such a way as to create a single, seamless environment for passengers. Ultra will integrate UltraCUSE, a common-use infrastructure allowing for flexible provisioning of gates and check-in positions that can be shared between airlines. For their part NCR will deploy self-service state-of-the-art kiosks throughout terminals A, B and C. The project is currently being rolled out and is expected to be complete by the summer.
QuinTech finds answer to baggage jams

Airports are always looking for solutions that will gain them competitive advantage. BAGCHECK from QuinTech Engineering Innovations may be one such solution. In collaboration with Vanderlande Industries, Dutch-based QuinTech has developed a solution that automatically captures a high-resolution image of each item of baggage. All aspects of the luggage are then identified and based on this information a decision is taken regarding the conveyability of each item."This is a job that is normally done by the baggage handler," says Bart Houlleberghs, Co-founder of QuinTech. "BAGCHECK automates the decision-making process and does so with greater consistency than a human operator. Our solution prevents up to 40% of baggage jams meaning greater system availability, a lower mishandled baggage rate and lower labour costs. A backpack with long straps and handles may or may not get stuck in the baggage handling system. We take this decision out of the baggage handlers' hands."BAGCHECK has been successfully operational at Heathrow T5 since the beginning of the year.
Vanderlande in new project at JFK

Aside from its work with QuinTech, Dutch baggage handler Vanderlande Industries also used the PTX platform to announce its recent contract for the design and installation of a new airport baggage handing system at JKF's Terminal 4. The system will add six more baggage carousels, include 14,000ft of new conveyors and will have a capacity of 6,500 bags per hour.In 2010, Delta Air Lines decided to consolidate their international flights to T4. The new airport baggage handling system will manage outbound, inbound and transfer baggage for this terminal and aims to improve the travel experience at an airport that is through-putting an ever-increasing volume of passengers."We are very proud to announce our involvement in the modernisation of JFK T4," said EwoutCassee, President of Vanderlande Industries. "We have done similar projects at Chicago O'Hare International and Hartsfield-Jackson Atlanta International but this will most likely be the biggest."
New development in face recognition from Aurora

Aurora Computer Services has more installed sites using its face recognition systems than other provider in the UK. Alongside its advanced infrared face recognition system, Aurora recently added new functionality that was showcased for the first time at PTX.
"When passengers arrive at check-in they enrole in infrared," says Dr Tom Heseltine, Biometrics Consultant at Aurora. "Infrared technology allows you to capture an image of the face in any lighting condition and verify the same person has still got the same documentation they arrived with before they get on the plane. It's fast and accurate but previously we weren't able compare an infrared image with a standard colour passport image. That gap has now been bridged."Aurora's technological breakthrough could soon improve security at airport check-ins around the world. A recent 18-month trial at a leading UK airport did not register a single false acceptance."The airport in question is extremely happy with our solution and is looking to purchase approximately 90 units from us," said Dr Heseltine.
The future is round, says PowerKiss

One of the more unusual products at this year's exhibition was Powerkiss's wireless ring charger, on display at the Zoeftig stand. Powerkiss spent 18 months commercialising the technology and premiered its invention in the second half of last year. The PowerKiss motto is 'The future is round and it fits in your pocket'."Our company is founded on the idea that we hate cables and cable spaghetti," says John Lebeau, Sales and Marketing Manager for Powerkiss. "Our product allows you to charge your phone wire-free and is ideal for places where travellers are on the move, their phone is dying and they need somewhere to charge up."The ring works through inductive charging. The transmitter creates a 5cm field that transfers electricity to the device via the ring. The ring is simply plugged into the phone and placed over a guide light on a charging table.As a result of Powerkiss' agreement contact with SSP the ring chargers have recently taken their place at the airport cafes in Helsinki, Oslo and Copenhagen, with further installations due at Heathrow, Charles de Gaulle and Lyon."Currently we are loaning them out in cafés and taking a deposit," says Lebeau . "Soon however there will be a plan to sell them, especially if our partnership with Zoeftig takes off and suddenly we've got spots all over the world."
TMT installs revolutionary mobile terminal in Geneva

The Mobile Terminal (TMT) is a new company offering the only terminal solution on the market that can be installed and disassembled inside a week. The modular structure of the TMT solution allows a flexible, customised configuration of functional units inside the terminal as well as customised solutions with regard to the overall terminal size and capacity.Recently TMT installed a temporary 310m2 terminal at Geneva International Airport. The airport used the terminal during the busy winter season to accommodate flyers visiting the surrounding mountains and ski resorts.
"Geneva wanted a mobile terminal solution they could move around flexibly and quickly on the airport premises," said Klauria Krauss of TMT. "They also needed something that could serve various functions, from check-in terminal and bus terminal to rebooking facility. On top of that the solution had to provide comfort as well as fulfilling strict security demands. We were able to solve all their problems in one."Disassembling of the temporary terminal will take place in May. The modular system will then be stored on the airport premises and rebuilt when additional capacity is next required.
Visit the Testimonials and Review pages to see what delegates and speakers have to say!
SKYTRAX
WORLD AIRPORT AWARDS
Once again a high-level event! Both the conference and exhibition were full of the newest information and innovations, and there was enough time for good opportunities for global networking with colleagues in the industry. Thank you!
Uwe Kaschdailewitsch, Project Management, Stuttgart Airport GmbH, GERMANY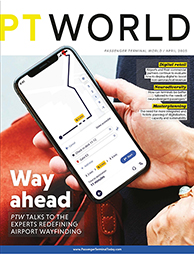 Click here for free magazine subscription + media pack