2012 Exhibition - videos page
Passenger Terminal EXPO now has it`s very own You Tube channel!
2012
The world's premier international airport terminal exhibition and conference
Passenger Terminal EXPO provides the most significant opportunity for airport and airline industries to debate current issues and form business relationships on a global scale. 2013 will be the 19th international conference and exhibition for passenger terminal design, management, security and technology.
Zoeftig & Co: Paul Williams, Chief Executive Officer, Zoeftig & Co talks about the company's new curved seating range, recently installed at McCarran International Airport in Las Vegas, and also discusses the company's business cluster seating which enables business travellers to have greater privacy in a dedicated work area with their own desk, two chairs and power source.
NEC Display Systems: Richard Wilks, Business Development Manager, NEC Systems talks about engaging passengers and improving the passenger experience at airports by utilising the company's enhanced displays and digital signage solutions all the while reducing power consumption with the latest LED displays.
ARINC: Tony Chapman, Senior Director Integrated Travel Solutions, ARINC introduces Express Drop, a self service bag drop and tagging system with built-in biometric facial capture software which matches the passport to the passenger and then to the bag tag.
IER: Christophe Arnaud, VP Marketing & Business Development, IER introduces one of the company's latest developments, a self service boarding gate which has been developed without obstacles and instead using lights to either increase or decrease passenger flow during the boarding process.
SITA: Nick Gates, Portfoliio Director Baggage, SITA launches BagSmart, a new service from SITA to enable airports, airlines and ground handlers to closely monitor movement of transfer bags – an area that has been identified a main area for mishandled luggage – and to provide an end-to-end baggage process solution for transfer bags.
NCR Travel: Tyler Craig, VP & General Manager, NCR Travel talks about the company's latest self service passenger wayfinding solutions developed to enable the 30% of passengers who do not connect with amenities such as restaurants and shopping concessions at airports, to take control of their time in terminals in a relaxed and convenient way.
LIFTS ALL: Sofie Nyberg, Managing Director, Lifts All introduces the company's latest offering called Basic developed for reloading and unloading of baggage carts that promises reductions in energy use of up to 90% compared with traditional vacuum loaders.
HERBERT SYSTEMS: Andy Dowe, Business Development Manager, Herbert Systems introduces TRS – Tray Return System, developed for the central search check point area at airports in order to create a more passenger-friendly environment when passing through security.
EAS Envimet Analytical Systems: Peter Schmid, Managing Director, EAS Envimet Analytical Systems comments on MagShoe developed to speed up people screening and throughput of passengers through the security check area at airports and touches on body scanners utilised to cut down on invasive passenger pat downs.
SBS: André Safir, CEO & Chairman, SBS, launches an innovative new self-service bag drop unit for passengers to check in and drop-off bags directly into air-cargo containers ready for loading onto aircraft, with security maintained utilising RFID padlocks.
NAPCABS: Jörg Pohl, Marketing Manager, NAPCABS presents this innovative sleeping cabin designed for passengers with extended periods of time between connecting flights, that is equipped with a bed, air-conditioning, internet access and multimedia touchscreen and already in use at Munich International Airport.
SKYTRAX
WORLD AIRPORT AWARDS
Wide-ranging, topical and comprehensive conference. Some fascinating speakers, it was well structured
Bronwen Jones, Development Director, Gatwick Airport, UK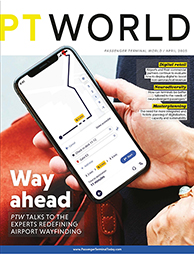 Click here for free magazine subscription + media pack