Conference delegates
1,775+ CONFERENCE ATTENDEES | 375+ SPEAKERS | 100+ COUNTRIES REPRESENTED

9 CONFERENCE STREAMS DAILY!
With its genuine focus on passenger terminals, the Passenger Terminal CONFERENCE programme is unique, allowing participants to engage in detailed, relevant and stimulating industry debate and learning.
This highly focused conference brings together both airport and airline professionals. Most events concentrate on only one of these sectors; Passenger Terminal EXPO is the only one that provides a powerful platform for the two main travel industry groups to interact and share common issues.
The conference attracts teams with responsibility for management and operations, architecture, planning and design, customer service and passenger experience, security and safety, border security and control, check-in and passenger processing, finance and revenue, IT, systems integration and communications, retail and concessions, environment and sustainability, baggage handling and processing, PRT and APMs, and so much more!
We ensure that each year the conference reflects the topics of key interest to all potential delegates, including issues such as capacity planning, operational readiness, non-aeronautical revenue generation, security legislation, technological advances, strategic and business management and the environment.
An independent and unbiased conference platform
Although the conference is strongly supported by industry bodies such as major airports, airlines, governments, railways, authorities, regulators and their suppliers, it is independent and encourages a free and frank exchange of views and ideas. Participation in such a highly authoritative platform allows businesses to be associated with a quality educational programme.
Conference delegates and speakers package:

Receiving your conference badge:

Who you will meet:

Visit the Testimonials and Review pages to see what delegates and speakers have to say!
SKYTRAX
WORLD AIRPORT AWARDS
The conference was a good opportunity to find out what the hot topics in the airport sector are. The exhibition was a great chance to see the latest products on the market
Fauzia Aouden, Manager Expertise & Policies, Schiphol Group, NETHERLANDS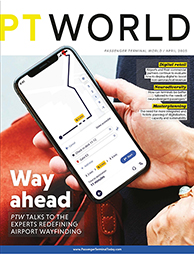 Click here for free magazine subscription + media pack