Products on Show
New water dispensers
Blupura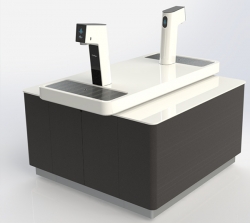 UNICO is a brand-new smart water dispenser designed by Blupura for airports and combining technology, safety and eco-sustainability.

Using artificial intelligence to detect the user's presence, UNICO can automatically refill a water bottle with four types of water: cold still, cold sparkling, room temperature and hot. Thanks to the AI technology, it automatically stops when the bottle is full, avoiding unwanted water leakage. The materials employed are durable and easy to clean due to the use of Corian, stainless steel and tempered glass. The counter edges are tapered and the drip tray has been designed with splash-proof triangular profiles to reduce the chance of wet and slippery floors.

In compliance with ADA regulations, the technology is easy to use for persons with disabilities. It is safe because it is touch-free and because the arrangement of the taps in the water filling station provides a separation of over 1.8m between users.

Connected to the water mains, it ensures unlimited quantities of high-quality water and reduces CO2 emissions due to the non-production, transportation and disposal of single-use water bottles.

Also from Blupura, BLU2GO is a green water vending machine that dispenses four types of water into cups or bottles and allows the purchase of a 500ml thermal water bottle or bottle cleaning services. With BLU2GO, users can avoid the use of disposable cups and plastic bottles. It has a user-friendly multilingual interface with color touch display and an easy-to-access menu, in compliance with ADA regulations, to ensure ease of use for persons with disabilities. BLU2GO is a smart solution for all public areas where a source of fresh water is needed, ideal for airports, shopping centers, and so on.