Products on Show
Baggage and ULD container management gets upgraded
Luggage Logistics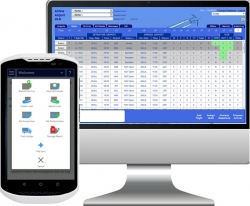 Luggage Logistics, a baggage and unit load device (ULD) container management solution provider, has used the past 24 months to develop and enhance a number of innovative solutions to support the industry as aviation traffic begins to return to pre-pandemic levels.

The company's baggage IT solutions have been enhanced with an integrated baggage customs pre-clearance module, allowing image capture and customs clearance of bags without having the bags physically present, and an inventory management module, which can be configured to provide a software-based early bag storage facility as well as providing rapid tracking and sorting facilities for disruption events.

The feature-rich ULD management solution, already used by a number of major international carriers, tracks an airline's ULD inventory and includes loan, damage and maintenance functionality. ULD management system (UMS) tracking supports all IATA ULD messaging (UCM, SCM, LUC and CPM), along with Bluetooth LE automated movement tracking. The supporting Android scanner application allows access to key stock control functions and provides quick damage reporting with photo capture to ensure unserviceable equipment is removed from operation and sent for maintenance. An integrated equipment maintenance module provides an FAA-approved digital sign-off function for the equipment repair cycle, and is used for ULD, GSE and galley equipment management by airline customers. UMS is traditionally a carrier solution, but GHA and airport authority modules provide ULD management at an airport level where ULDs need tracking, storage control, ramp safety compliance and reporting for charges and airfield management.

Load&Track, a comprehensive baggage reconciliation and management system, has had several enhancements to existing functions: version 3.0 has a brand-new user interface for web applications, which will be rolled out to customers throughout 2022.