Products on Show
Sustainable upholstery
ELeather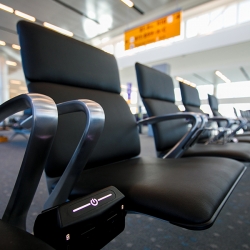 ELeather, a sustainable materials technology provider, is looking forward to reconnecting with the airport furniture market at Passenger Terminal Expo in Paris.

The company will showcase its range of sustainable upholstery materials, engineered specifically for passenger terminal seating applications. The team will be on hand to discuss how the sustainable leather is being increasingly used in terminal seating, offering the same exceptional experience to terminal passengers as its in-transit counterparts.

Recently, airports have been under pressure to shrink their environmental footprint and introduce more sustainable practices in line with the sustainability spotlight shining on the entire aviation industry. ELeather materials have unrivaled sustainability credentials and can help airports reduce their environmental impact.
"Not only is ELeather PVC free and low VOC, it also saves thousands of tons of leather waste from going to landfill and contributes to the reduction of PU and plastics in public spaces, including airports," says Karl Hartung, ELeather's business development manager.

Recognizing the need for a comprehensive value proposition that satisfies parties across the passenger terminal supply chain, ELeather upholstery has exceptional durability characteristics and is easily maintained. It also offers designers ample opportunity to create inspiring spaces for customers.