Products on Show
Global IT support for airports and solution providers
ESP Global Services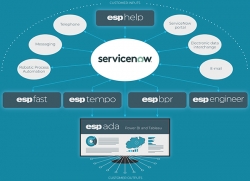 ESP Global Services is excited to once again be participating in Passenger Terminal Expo, where it will showcase its innovative aviation IT support technology.

The core tool of its services is the ServiceNow platform, with newly developed in-house apps to help deliver services in the way that customers want.

Three tools work together to ease customers' operational functions in airports: the ESP Advanced Data Analytics (ADA) toolset allows users to visualize equipment problems in the airport and identify the root cause of unusual fault trends; ESP Help allows quick and easy fault reporting via an embedded app on the airport systems; ESP Tempo, the newest addition, is a complete workforce management tool that ensures global teams are where they are needed, effectively and efficiently, regardless of location.

"ESP is excited to be presenting our newest innovative airport IT support solutions at Passenger Terminal Expo. These tools have been built specifically to manage the demands of the aviation environment, driving speed of resolution and problem identity to improve the passenger experience," says ESP's CEO, Andy Jenner.