Marketing downloads
▪ Media downloads ▪ Marketing downloads ▪ Other available downloads
Downloads
These event logos and marketing materials have been provided for use by exhibitors, speakers, conference delegates and exhibition visitors to share information on the event with friends and colleagues.
They can be used to post the event details on a company website or calendar listing; to send printed invitations to colleagues and clients; to email details of the event throughout a company internally, etc.
Download the 2019 EXPO logo
Download the 2019 EXPO logo with dates
Download the 2019 CONFERENCE logo
Please note: If you require a logo in a different format to the ones above, please email us. All of the logos above are available showing the dates and location as well.
SKYTRAX
WORLD AIRPORT AWARDS
Once again a high-level event! Both the conference and exhibition were full of the newest information and innovations, and there was enough time for good opportunities for global networking with colleagues in the industry. Thank you!
Uwe Kaschdailewitsch, Project Management, Stuttgart Airport GmbH, GERMANY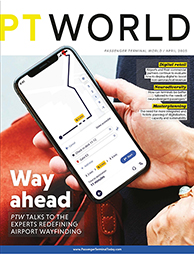 Click here for free magazine subscription + media pack