Free Press Badge Registration
If you are an active member of the press, please fill in your details and register for your free Press Badge.
You can scan your FastTrack entry barcode on your smartphone/tablet at the registration area within the event entrance. Scanning the barcode means you do not need to input any data on-site – your entry badge will automatically print upon scanning, thus enabling rapid entry to the event! Using your FastTrack entry barcode to print your badge will save you up to five minutes at the entrance! You can also print your FastTrack barcode prior to the event, and scan the printed version instead.
SKYTRAX
WORLD AIRPORT AWARDS
Invaluable learning and networking opportunity with great diversity. Excellent event
Neil Moran, Head of Terminals - Asset Care, Dublin Airport, IRELAND
26, 27, 28
March 2019
ADD THESE DATES TO YOUR E-DIARY OR GOOGLE CALENDAR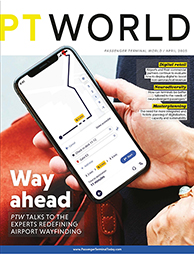 Click here for free magazine subscription + media pack