Products on show
Beyond common use
ICTS Europe SA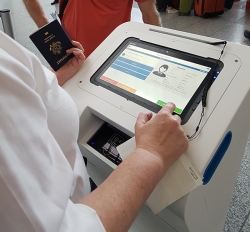 ICTS will be introducing a family of web-based solutions with the goal of ushering in the next generation in airport automation evolution. The systems are open platforms and thereby eliminate common use infrastructure charges altogether.
---
Border biometrics
Vancouver Airport Authority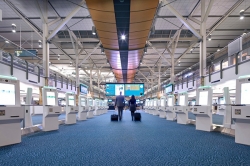 Innovative Travel Solutions, the innovation team at Vancouver International Airport, has developed BorderXpress, a biometric-enabled, kiosk-based border control solution that expedites border clearance.
---
Actionable insights for operational excellence
GRASP Innovations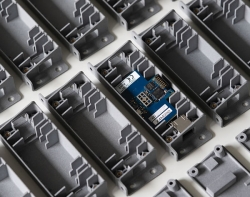 GRASP has been founded by two former aviation security consultants, who over the last few years have been dedicated to improving aviation security, both from a passenger experience (shorter queues and less hassle) and from an operational perspective (increase efficiency and effectiveness).
---
Specialised software solutions
Ikusi

Ikusi has designed a complete portfolio of software solutions oriented to provide a response to regional airport requirements.
---
Digital transformation expertise
SITA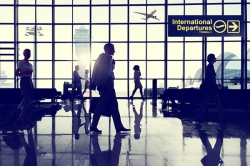 As one of the world's leading air transport IT and communications specialists, SITA is committed to meeting the demands of the industry around the clock every day. We work with the air transport community globally to digitize processes to enable the transformation of services and operations.
---
The future of mobility
WSP Global Inc.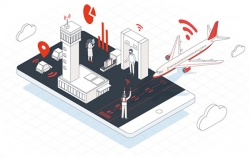 Consultancy company WSP will be at the Expo to promote its New Mobility Now Aviation Addendum
---
Operational and business intelligence suite
Veovo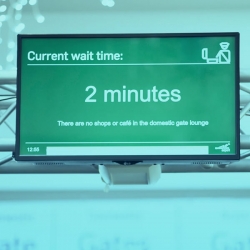 Veovo will present its suite of operational and business intelligence solutions at Passenger Terminal EXPO
---
Connected printers
VidTroniX LLC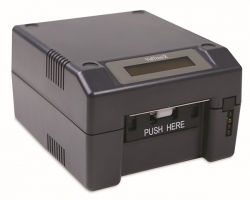 Stop by VidTroniX' stand to learn about its new ATP6 printer, which offers both wireless and Bluetooth connectivity, along with 10ips print speeds
---
Fence help
ST Engineering Electronics Ltd.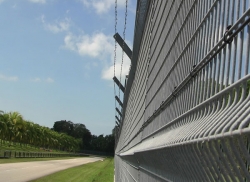 No wall or fence is impenetrable, so ST Engineering has developed the AgilFence Perimeter Intrusion Detection System (PIDS), a state-of-the-art fibre optic sensing solution that provides accurate and instantaneous detection of perimeter breaches, allowing security teams to respond quickly and effectively.
---
Biometrics capture
SMARTCORE Inc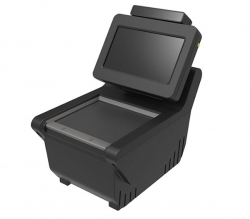 Smartcore will showcase its new biometric data capturing device at Passenger Terminal EXPO 2019
---
Decentralised mechatronic drive units
SEW-EURODRIVE GmbH & Co KG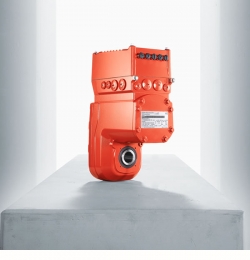 Visitors looking to speed up and failure-proof their baggage handling systems should stop by SEW, which is adding decentralised drive components to its Movi C modular automation system
---
Baggage and parcel screening suite of products
Rapiscan Systems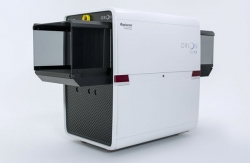 Rapiscan Systems is announcing the launch of its high-performance Orion series product line
---
Playgrounds
Play Mart International / IPLAYCO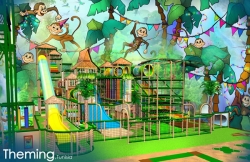 Waiting around in airports can be incredibly dull, especially for children, so Play Mart will be at Passenger Terminal EXPO to show the soft play structures that it designs, installs and maintains
---
All-weather displays
Peerless-AV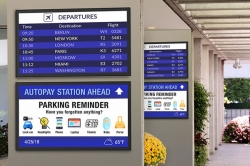 First-time exhibitor at Passenger Terminal EXPO, Peerless-AV, will be presenting its new Xtreme High Bright outdoor displays (available in 43in, 49in and 55in).
---
Reconfigurable seating
OMK Design Ltd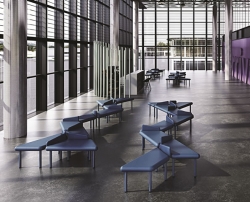 In a departure from beam seating, OMK's design team has developed a new concept seat for mixed use areas such as international departure lounges and arrivals halls
---
RFID for baggage sortation
Lyngsoe Systems A/S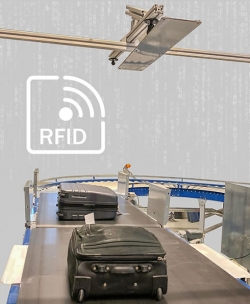 Lyngsoe Systems has obtained a patent for its Sortation Reader, which uses advanced algorithms to accurately match bags and RFID tags
---
Bright ideas worth displaying
NEC Display Solutions Europe GmbH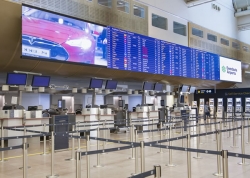 Richard Wilks, EMEA business development manager, airport and public transportation, at NEC Display Solutions, discusses a major project involving large direct-view LED installations at Stockholm Arlanda Airport.
---
Flow Analysis
XOVIS AG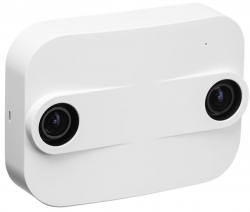 Andreas Fähndrich, managing director at Xovis Airports, will be unveiling some of the latest developments in object and passenger tracking.
---
Passenger counting through wi-fi
Laboratori Guglielmo Marconi SpA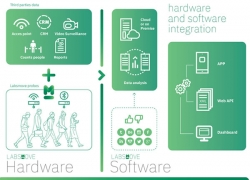 Knowing which areas of your airport are most congested, and which parts have spare capacity, is invaluable information, but having to depend on passengers downloading an application to obtain this data is impractical.
---
Biometrics app and e-gates
Informática El Corte Inglés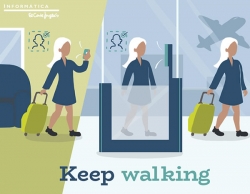 IECISA will be announcing not one, but two new technologies: the PassFly mobile app and Dynamic ABC e-gates control. Both have been created to increase security and facilitate the passenger journey by letting passengers move seamlessly through the airport using facial recognition.
---
LTE radio replacement
Icom Inc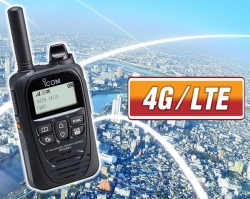 Icom Inc has developed a 'radio' communication package that works over the 4G/LTE network, making it ideal for areas where radio reception is patchy.
---
Self-service and biometrics
ICM Airport Technics Australia Pty Ltd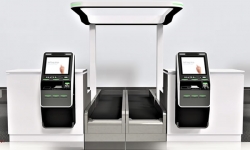 ICM Airport Technics will be demonstrating a complete suite of self-service passenger check-in and bag-drop solutions. This will include a new single-token face biometric technology platform that allows passengers to seamlessly move through various terminal touchpoints without the need for manual checks.
---
A seamless passenger journey
Heathrow Airport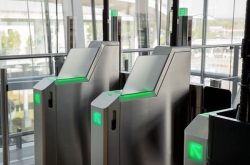 Passenger Terminal EXPO 2019's host airport Heathrow is developing a range of automated biometric identity services to streamline the passenger journey through the airport, from check-in through to boarding.
---
Instant passenger feedback
HappyOrNot Ltd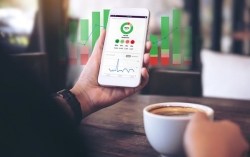 HappyOrNot is releasing its new Mobile Reporting app, which enables airports, authorities and other daily operational stakeholders to pinpoint and react quickly to service declines and then make immediate adjustments to positively impact overall performance and passenger experience.
---
Attractive self-service bag-drop unit
Glidepath Systems and Vancouver Airport Authority
Apart from being functional, self-service bag drop units should also lift the ambiance of the departure terminal. So Glidepath has teamed up with Innovative Travel Solutions, the innovation team at Vancouver International Airport (YVR), to develop the CHECKiTXpress.
---
Operational management suite
DTP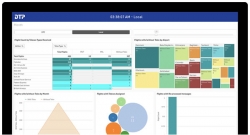 Aviation technology company DTP will present the latest additions to its DTP tNexus suite of operational management and optimisation solutions, and will launch its situational awareness mobile app.
---
Free-flow passenger gates
Digicon SA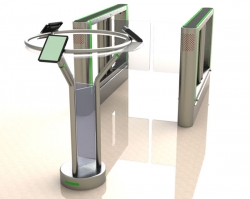 Aiming to bring a breath of fresh air to the passenger gates segment, Digicon has developed its dFlow, dViator and dPass products.
---
Parking pay stations
DESIGNA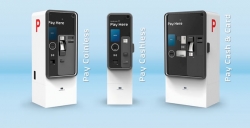 The Designa UK team will be demonstrating its latest solutions for parking management at airports, showing that design and functionality can very much go hand in hand.
---
Cloud-based operational planning
Copenhagen Optimization ApS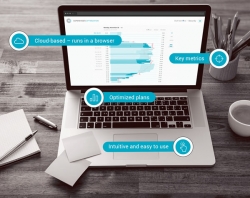 Consultancy and software company Copenhagen Optimization will be showing off its cloud-based Better Airport Suite, which uses your data with advanced algorithms to generate forecasts and operational plans, enabling operational optimisation and collaborative decision-making across all stakeholders.
---
New e-gate system
COMINFO AS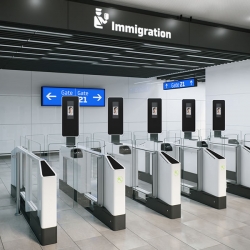 E-gates with biometrics are a hot topic, and Cominfo will be showing its take on the subject at the expo. The turnstile and speed gate manufacturer's e-Gate automated border control solution uses facial recognition, a smart card reader for ID cards, an e-passport reader and a fingerprint scanner to offer passengers a convenient way to go through security checks.
---
Air-conditioning
CIAT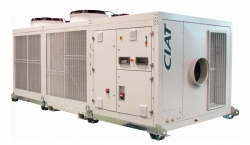 Keeping passengers toasty in winter and cool in summer is central to the passenger experience, so make sure to visit CIAT at Passenger Terminal EXPO to discover the company's range of air-conditioners and pre-conditioned air units.
---
Wi-fi location analytics platform
Aislelabs Inc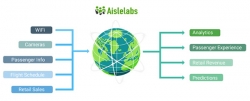 Flow is Aislelabs' advanced enterprise-grade Wi-fi location analytics platform, which helps airports understand the end-to-end passenger journey from kerb to gate.
---
Modular tray system for security lanes
WO Airport Interior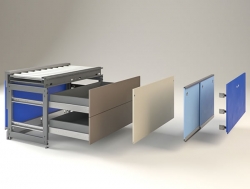 Danish company WO is launching its third-generation modular system for security lanes. It allows airports of all sizes to have high-quality customised security lanes at competitive prices.
---
Wayfinding kiosk
ViaDirect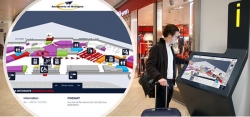 Airports aren't getting any smaller, so interactive wayfinding solutions are a popular topic at Passenger Terminal EXPO 2019. ViaDirect will show its interactive kiosk that gives passengers information about their flights (by scanning their boarding passes), helps them find their check-in desks, and shows them the shortest route to their departure gates
---
Internet of bins
Finbin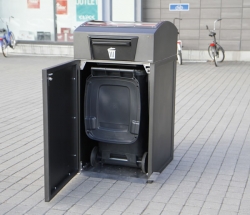 Finbin is launching the CitySolar rubbish bin, which automatically compacts the waste. It is powered by solar panels and is therefore aimed at the outdoor areas of an airport. However, indoor versions are available, which can simply be connected to the power grid.
---
Expanded seating range
Arconas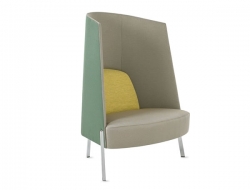 Arconas is expanding its range with a large number of new furniture products, following its appointment as an official dealer for Studio TK. As a result, Arconas is now able to offer Studio TK's line of tables and soft seating.
---
Wireless device charging
Baker Bellfield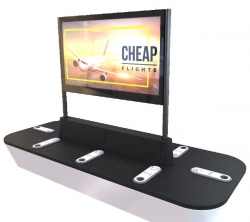 Furniture designer Baker Bellfield is introducing a new line of device charging solutions that will seamlessly integrate into any area within a terminal building. Passengers have a choice of using Qi wireless charging, the AC power socket or USB charging.
---
Centralise your fire alarm system
Firstco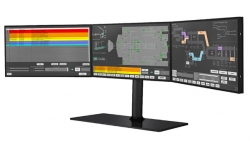 Firstco will demonstrate its Fire Alarm Management System, which was designed for and implemented in Heathrow's new Airport Operations Centre. The system sits over the top of all the fire alarm systems and communicates with the different fire alarm panels.
---
Secure data entry
PrehKeyTec GmbH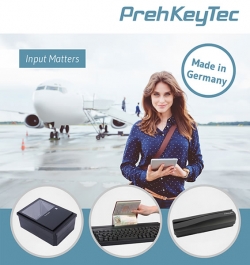 German producer of innovative data entry systems PrehKeyTec will show how compact mobile computing can support all-in-one solutions. Its OCR and barcode reading devices are Android-compatible and can therefore be used in conjunction with tablets and smartphones, making for very flexible solutions.
---
Homely airport seating
Kusch+Co GmbH & Co KG
Visitors to Passenger Terminal EXPO who are tired of walking and feel like trying out some new seating concepts should stop by Kusch+Co's stand, which will show a new line of airport seating designed to make travellers feel at home.
---
Easier IT issue reporting
Wipro Ltd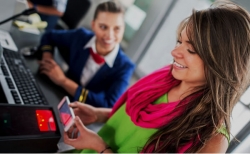 Airports have their fair share of technical glitches and staff have better uses for their time than spending it on the phone with the IT helpdesk. Wipro has therefore developed the Click to Report solution, which promises to reduce the time it takes to report terminal issues by more than 95%.
---
End-to-end airport capacity assessment consultancy
AiQ Consulting Ltd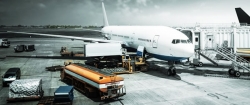 NATS and AiQ Consulting will be announcing a new collaboration at the show, which combines their airside and landside expertise for airports to build growth, performance and customer experience.
---
Industry guidance
IATA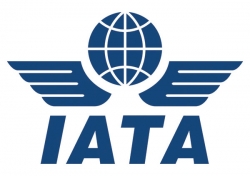 IATA, the trade association for the world's airlines, will also be exhibiting at Passenger Terminal EXPO to demonstrate its deep expertise in a wide array of complex aviation-specific business challenges.
---
Where are my trolleys?
Wanzl Metallwarenfabrik GmbH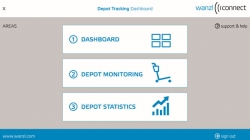 For many passengers, luggage trolleys are an absolute necessity, but keeping track of where all the trolleys are and where more trolleys are needed can be a challenge for the airport. Wanzl is therefore introducing Wanzl Connect to optimise trolley fleet management.
---
Wheelchair safety and convenience
Staxi Corporation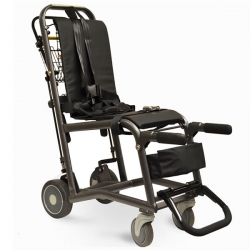 Staxi will showcase its Aisle Chair, a wheelchair designed specifically for airport use with a 225kg weight capacity that safely and securely takes passengers from gate to seat with optimum comfort.
---
EES-ready touchpoint solutions
Secunet Security Networks AG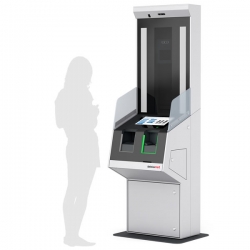 To help airports get ready for the introduction of the EU Entry-Exit System (EES), Secunet is launching the next generation of its self-service kiosks, document readers and border control solutions. The company will present Secunet Bocoa, an intuitive application for mobile and stationary identity checks
---
Baggage handling operations simulation
BNP Associates Inc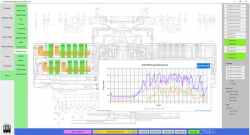 Independent baggage and cargo handling consultancy BNP Associates will be demonstrating a new simulation tool that lets airports model their baggage systems to better understand flows, predict bottlenecks, optimise operations and help to determine appropriate staffing levels.
---
Integrated security screening
Nuctech Company Limited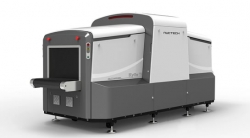 Leading security screening technologies and solutions supplier Nuctech will show some of its latest innovations at Passenger Terminal EXPO. The first is the Key-Line, which is billed as an integrated airport security checkpoint solution.
---
Data-driven operational performance prediction
Deloitte MCS Limited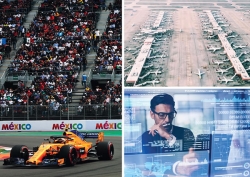 Although most people know McLaren as a Formula 1 team and sports car manufacturer, its Applied Technologies division gets involved in just about anything, including aviation. In partnership with Deloitte, it is developing a range of data-driven products that help close the physical-to-digital divide for various organisations.
---
Complete security checkpoint solution
L3 Technologies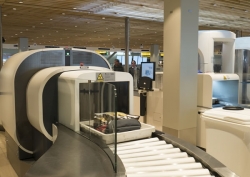 Passenger Terminal EXPO is the place to find the latest checkpoint CT scanning technology. L3 will exhibit its ClearScan machine, which has been deployed with the ECAC C3 protocol since January 2018, scanning more than 15 million bags last year.
---
Biometrics for Airport 4.0
IER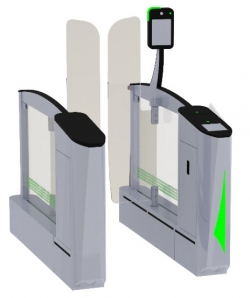 Airports looking to implement biometrics at more touchpoints should have a look at IER's latest products. With the IER Airport Biometric journey, the company intends to resolve expected airport capacity issues without compromising on security and systems integrity
---
eGPUs and more
ITW GSE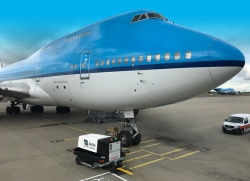 For airports wishing to reduce their carbon footprint and improve the working environment of their staff, ITW GSE has developed a new battery-powered 7400 eGPU. The new unit is ideal for gates without a power supply, remote parking areas and hangars.
---
Natural ventilation
AIA LIFE DESIGNERS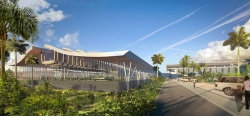 Roland Garros Airport, on the island of Réunion, is attempting to reduce its energy consumption to a quarter of the level of a conventionally air-conditioned airport. To achieve this, the airport is working with architects AIA Life Designers to implement bioclimatic design concepts
---
Drone detection systems and countermeasures
DroneShield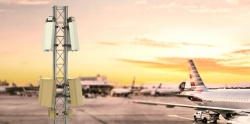 DroneShield will exhibit its complete suite of capabilities as a counter-drone, end-to-end solutions provider, while underlining its ability to tailor its offerings according to its clients' requirements and budgets.
---
Next-generation automated screening lane
Vanderlande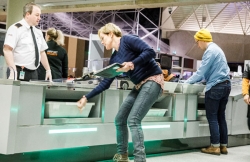 Benefiting from years of experience and multiple deployments of its state-of-the-art Automated Tray Return Systems (ATRS), Vanderlande has launched its next-generation automated screening lane – PAX OPTIMA Advanced.
---
Dynamic baggage storage
Beumer Group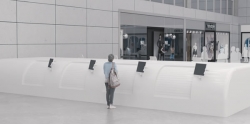 Beumer Group's Ultimate Baggage Handling System, featuring a dynamic 'on demand' concept, will take centre stage on its stand at this year's expo.
---
Document scanners for every touchpoint
Desko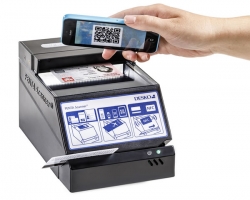 Sourcing document readers from different manufacturers for all the touchpoints in an airport is a headache waiting to happen. Desko has therefore developed a range of devices that streamline the entire passenger process in self-service and agent-based environments.
---
Improve passenger flow
Via Guide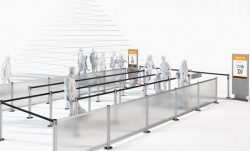 Passenger flow at airports is about more than just measuring and analysing key performance indicators – people also need a little help to know where they have to go.
---
Electronic device-proof checkpoint scanner
Smiths Detection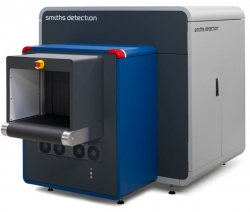 Smiths Detection's stand will have demonstrations of the new Hi-Scan 6040 CTiX, an EDS CB C3-approved and TSA AT-2-certified checkpoint scanner that eliminates the need to remove electronic devices and liquids from hand luggage.
---
Document verification with any smartphone
Regula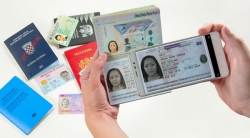 The software development kit developed by Regula can control a smartphone camera, capture document images, and recognise, process and verify personal data to turn any smartphone into a portable document reader for automatic form filling.
---
Passenger Information system
Data Modul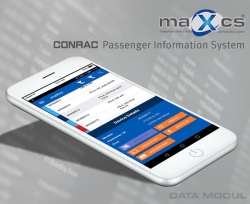 Data Modul will be highlighting the software behind its signage system at this year's Passenger Terminal EXPO.
---
Integrated VDGS and apron management
ADB Safegate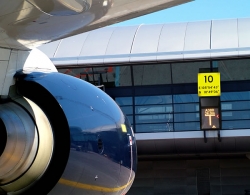 The complex choreography of the apron is only seamless when all stakeholders and all systems work together as one. That's why ADB Safegate will be showcasing its Safedock A-VDGS and apron management solution.
---
Online marketplace for airports
AOE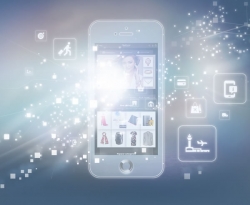 AOE will present the Omnichannel Multi-Merchant Marketplace (OM³), a powerful online marketplace that helps airports digitise their business models and realise their potential for creating sustainable non-aviation revenues.
---
Airport consulting
NACO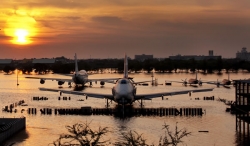 NACO, a leading airport consulting, engineering and architectural firm, recently completed the world's first comprehensive climate change resilience study at Changi International Airport in Singapore.
---
Leather fibre composite
ELeather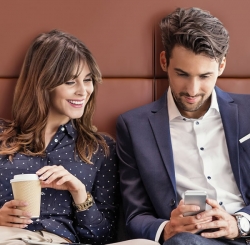 Well established in the aviation, bus and rail seating upholstery markets, ELeather will be showcasing its range of materials specifically engineered for passenger terminal seating applications.
---
Artificial voice systems for airports and airlines
AviaVox
AviaVox will present FlexiVox, which will enable an airport or an airline to deliver dynamic audio files in real time to locations that are not directly connected to the public address system of the airport.
---
Dynamic stand allocation
Harris Orthogon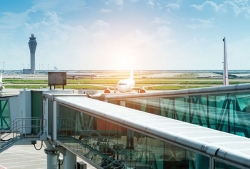 Harris Orthogon will present the latest version of its predicting and supplementing Orthogon Airport Suite for connected airport and air traffic control operations.
---
Automated rest cabins
Napbox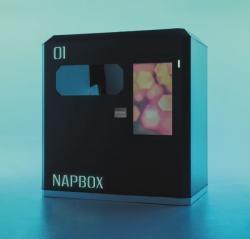 Napbox designs and manufactures automated rest cabins with the objective of making empty spaces in airports more profitable while offering a unique experience for both passengers and crew.
---
Deep learning for every part of the airport
Aurora-AI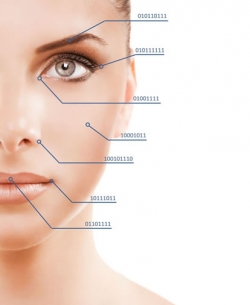 Aurora-AI is showcasing the power of artificial intelligence (AI) development in supporting the air industry to improve the passenger experience while reducing operational expenditure.
---
Information sharing and safer ATC
Leidos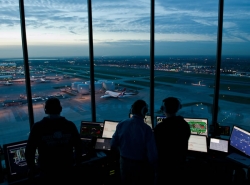 At this year's Passenger Terminal EXPO, Leidos will showcase a new tool to enable interoperability and information sharing through open standards.
---
Modular document scanner
Access-IS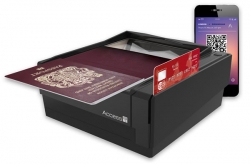 Visitors in search of an automated solution to capture data from an ID document, barcoded boarding pass or frequent flyer (FQTV) card should take a look at Access-IS's stand at Passenger Terminal EXPO 2019.
---
Self-service equipment care
Materna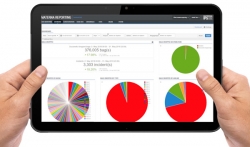 To give airports a better overview of traffic numbers, maintenance requirements, failures, downtime and peak loads, Materna IPS has developed a tool that can monitor and analyse the performance of your applications up to single transactions and show them in an intuitive dashboard-based control centre.
---
Flexible furniture
Green Furniture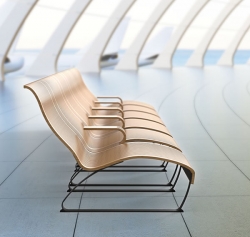 One of the new additions to Green Furniture's Nova C series is an ergonomic lounge seat that can be curved and shaped into endless architectural designs and fits the rest of the seating line.
---
Self-service kiosks
Airport Solutions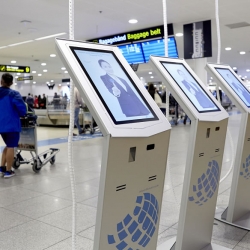 AirportSolutions.dk has introduced an updated and fully equipped version of its self-service baggage kiosks that makes reporting delayed and damaged bags fast, easy and efficient.
---
Passenger processing and more
Flight Solutions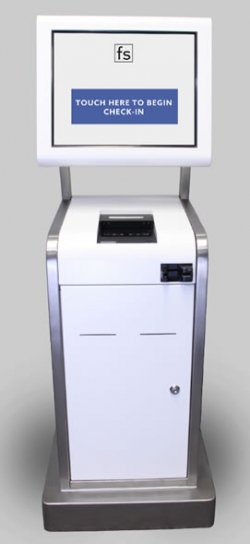 Flight solutions will be demonstrating its departure control system, cloud-based common-use desktop applications, automated passenger verification system and self-service capabilities, including check-in and bag-drop kiosks.
---
Mobile baggage inspection tables
Daifuku Airport Technologies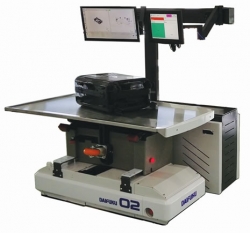 Daifuku Airport Technologies will be exhibiting its BAGgate self-service bag-drop solution, mobile inspection tables and its new tilt tray sorter, as well as technology updates for its SYM3 visualisation package.
---