Exhibition videos
Please visit our You Tube channel for interviews and videos from earlier years.
The world's leading international airport terminal conference and exhibition
Passenger Terminal CONFERENCE & EXPO provides the most significant opportunity for airport and airline industries to debate current issues and form business relationships on a global scale. 2016 will be the 22nd international conference and exhibition for passenger terminal design, management, security and technology.
2015 Exhibitor interviews
Rockwell Collins (ARINC)
Christopher Forrest, Vice President Global Airports, Rockwell Collins (ARINC), UK, discusses the ARINC acquisition and the road ahead, and also launches two new products: ARINC V-MUSE mobile, which enables airline and ground handling agents to utilise a tablet-based application to check-in passengers from anywhere in an airport; and the integration of biometrics into the company's V-MUSE, self-bag drop and e-boarder gate products.
Quintiq
Marcel Dreef, Director Aviation Planning Solutions, Quintiq, Netherlands, discusses how Quintiq enables airports to optimise their resource allocation and as a result increase their performance across the whole organisation. He also explains why more data does not automatically lead to better decisions.
Arconas Corporation
Lynn Gordon, Vice President of Airport Solutions, Arconas Corporation, Canada, talks about the company's Place Power Station, a plug-and-play seating system equipped with power at every seat, and tablet arms with integrated drink holders, and launches Silica, an upholstery solution for airport seating seen as a valuable asset for maintenance programmes and a product's lifecycle.
Lockheed Martin
Martin Bowman, Sector Director, Lockheed Martin, UK, launches two new platforms that help airports increase operational efficiency, including TBS – Time-Based Separation, which looks to increase the number of flights that can land at airports on windy days by sequencing flight arrivals by time rather than distance, and also a solution for increasing non-aeronautical revenue by optimising departure gate allocation more efficiently.
TAV Information Technologies
Binnur Güleryüz Onaran, Managing Director, TAV Information Technologies, Turkey, comments on the company's range of aviation products and services being utilised at 29 airports worldwide, including ICT projects at the all-new Midfield Terminal at Abu Dhabi International Airport and the new T5 at King Khalid International Airport in Riyadh, Saudi Arabia.
Gunnebo Entrance Control
Raphael Roy, Business Development Director, Gunnebo Entrance Control, UK, comments on the company's range of passenger flow management solutions aimed at reducing queuing times for passengers without compromising security, and the importance of being able to measure and record patterns of passenger movement to optimise the location of different service facilities at airport.
SITA
Nick Gates, Product Portfolio Director, SITA, UK, discusses the company's end-to-end solutions that enable airports to provide seamless passenger processing, and also comments on innovations in areas such as beacon technology and apps at airports, as well as smart technology for effective airport operations.
Bosch Security Systems
Denis Castanet, Business Development Manager, Bosch Security Systems, France, talks about the company's range of solutions for airports, including the ability to monitor all areas and activities efficiently to ensure emergencies and threats are immediately detected, and systems that enable climate and energy consumption to be monitored in real time to reduce energy costs through the use of patented ventilation control.
Beumer Group
Yohan Rajczyk, Sales Manager, Beumer Group, Denmark, launches MyCheck, a flexible solution with enhanced 3D scanning, which can be used as a fully automated check-in and bag drop for the passenger; as an automated check-in by the passenger and bag drop at a manned counter; or as a conventional check-in and bag drop at a manned counter.
Vancouver Airport Authority
Christopher Gilliland, Manager Business Development, Vancouver Airport Authority, Canada, introduces BorderXpress, the world's first self-service border control solution designed to reduce wait times for all passengers, which is already reducing wait times by up to 50% at 650 kiosks in use right across the United States, Canada and the Caribbean.
Samsung Electronics
Tim Ellis, Presales Engineer, Samsung Electronics, UK, comments on the company's range of LFD (large-format display) screens, which are ideally suited to airport applications including FIDS, digital signage and video walls and which feature SOC (system on chip), a powerful 1.5GHz computer that enables the real-time transfer of data suitable for FIDS on high-resolution displays up to UHD, and also touchscreen displays for passenger wayfinding.
BAG2GO
Yan Reh, Chief Executive Officer, BAG2GO, Germany, launches BAG2GO, a smart luggage product designed for airlines to offer passengers a fully paperless online baggage check-in experience via a smartphone app. The passenger's travel information is recorded on a barcode and conveniently sent to an electronic display built into the BAG2GO suitcase.
Visitor interviews
Rob Chapman, Adelaide Airport
Interview with Rob Chapman, Chairman, Adelaide Airport, Australia, who comments on his visit to the exhibition and conference, where he's looking at new technologies in the exhibition and hearing about new developments in the conference, which has enabled him to 'confirm his own theories and hypotheses'.
Ashok Deepchand, ATOL
Interview with Ashok Deepchand, Manager, Passenger Terminal & Services, ATOL (Airport Terminal Operations Ltd) Mauritius, who discusses his first visit to the event in order to discover new technologies and best practices for passenger service, to implement at the all-new Sir Seewoosagur Ramgoolam International Airport terminal in Mauritius.
Mário Soares, TAP Portugal
Interview with Mario Soares, Senior Business Analyst, TAP Portugal, Portugal, a regular visitor to the event, who explains the importance of learning the very latest trends and developments across the industry, with a particular focus this year for him being self-bag drop.
Jeremy McGrath, McGrath Aviation
Interview with Jeremy McGrath, Director, McGrath Aviation, a regular visitor to the event over the past 15 years, who describes the Passenger Terminal CONFERENCE as 'inspirational and a great opportunity to recharge the batteries'.
Jacques Odier, Air France
Interview with Jacques Odier, Ground Operations Security, Air France, France, who talks about his visit to the event to look at the latest technologies that help airports and airlines with security processes including check-in and boarding as well as liquid detection.
SKYTRAX
WORLD AIRPORT AWARDS
Very good conference
Oliver Reindl, Chief Information Officer, Flughafen Köln-Bonn, GERMANY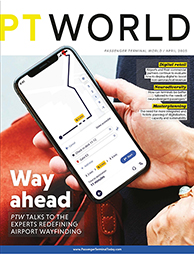 Click here for free magazine subscription + media pack