Reasons to attend

THE Worldwide Airport Conference and Exhibition
7,350+ ATTENDEES | 17,000m2 EXHIBITION SPACE | 1,775+ CONFERENCE ATTENDEES

375+ EXPERT SPEAKERS | 300+ EXHIBITORS | 100+ COUNTRIES REPRESENTED

9 CONFERENCE TRACKS DAILY!
1. A unique event bringing together airport and airline professionals
Passenger Terminal EXPO provides a powerful international platform for the airport and airline sectors to interact and share common issues, goals and solutions about the airport industry, with a particular and unique focus on the terminal. Expect to see 1,775+ conference attendees, 375+ expert speakers, 300+ exhibitors and 7,350+ event attendees from 100+ countries. The conference and exhibition attract professionals from airport, airline, authority, regulator and government teams as well as their consultants, architects and suppliers for every area of the passenger terminal industry.
2. HEATHROW AIRPORT - Official Host Airport
Heathrow Airport is the Official Host Airport for Passenger Terminal CONFERENCE & EXPO 2019 and in full support of the event. We are delighted to announce that John Holland-Kaye, Chief Executive, HEATHROW will be making the opening address and keynote speech at Passenger Terminal CONFERENCE 2019 on 26 March 2019.
3. Skytrax WORLD AIRPORT AWARDS live ceremony & drinks reception
Skytrax has announced that the WORLD AIRPORT AWARDS will again be hosted live at Passenger Terminal CONFERENCE & EXPO 2019. "The collaboration with Passenger Terminal EXPO enables Skytrax to host the World Airport Awards at a venue that offers very clear synergies between the two events," said Edward Plaisted, CEO of Skytrax. "It provides the platform to publicly honour the winning airports, while at the same time delivering an awards ceremony that is not influenced by any third party – this concept is of paramount importance to us."
4. Passenger Terminal CONFERENCE
With multiple conference streams running parallel each day, over three days, presented by 375+ leading experts from airports, airlines, authorities, governments and consultants around the world, the conference creates a highly stimulating atmosphere for industry update and debate, enabling unique learning opportunities for conference delegates and speakers alike. Speakers and delegates include Presidents and CEOs, Directors, Managers and their teams – creating an excellent mix of knowledge and insights on every level. The conference has been designed to be a one-stop shop for the latest developments in the industry, so if you and your team can only attend one conference this year – make it Passenger Terminal CONFERENCE!
5. An international industry exhibition
Visitors to the exhibition will have a vast array of industry suppliers to meet with. 300+ suppliers from around the globe! Passenger Terminal EXPO has generated worldwide recognition and support, so the views, ideas, innovations, new products and services presented here have a truly global perspective.
6. Networking opportunities
Passenger Terminal EXPO offers truly unrivalled networking opportunities. As well as networking conference lunches and coffee breaks, an invitation is extended to all attendees to join exhibitor hall parties with drinks and canapés. The exhibitor hall parties provide the perfect setting for relaxed and informal networking.
7. Market intelligence – hot off the press
To stay one step ahead of the competition, Passenger Terminal EXPO is the place to be. This independent, world-leading platform for the aviation industry offers an unrivalled opportunity to hear about the latest projects, industry trends and developments. See technology in action and catch up on the up-to-the-minute views of top industry influencers.
8. Access new markets
The powerful combination and scope of the conference and exhibition will give everyone the chance to make contact with new market opportunities. With over 7,350+ people attending from more than 100+ countries around the world, we can guarantee access to new markets and new ideas that you will not see at any other event.
More reasons will be added to the list as we create unique opportunities for you to discover in London!
Visit the Testimonials and Review pages to see what visitors and exhibitors have to say!
SKYTRAX
WORLD AIRPORT AWARDS
I'm very impressed with the quality of the presentations and the size of the exhibition
Céline Canu, Head Aviation Facilitation, International Air Transport Association (IATA), CANADA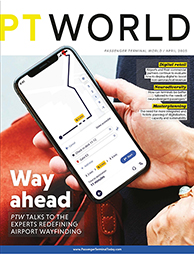 Click here for free magazine subscription + media pack