Why should you exhibit at the Passenger Terminal Expo?
7,350+ ATTENDEES | 17,000m2 EXHIBITION SPACE | 300+ EXHIBITORS

100+ COUNTRIES REPRESENTED
Since its inception in 1998, the Passenger Terminal EXPO exhibition has grown year-on-year to become one of the most influential forums for the selection of suppliers to airport development schemes across the globe, with some 7,350+ people in attendance.
Passenger Terminal EXPO is one of the most cost-effective sales and marketing platforms in the airport industry. It provides a unique environment in which a wide range of sales and marketing objectives can be achieved, from generating sales leads and launching new products, to building brand image and maintaining customer relations. But most importantly, Passenger Terminal EXPO encourages business to be conducted face-to-face – the most effective way to build and sustain customer relations.
As an independent world-leading platform for the passenger terminal industry, Passenger Terminal EXPO in London will be the place to hear about latest projects and industry trends and developments; see technology in action and catch up on the latest views of industry influencers. It is an opportunity to make informed purchasing decisions, and be one step ahead of the competition.
For further information about exhibiting at Passenger Terminal EXPO 2019 please contact Andrzej Smith, Managing Director, Passenger Terminal EXPO at andrzej.smith@ukimediaevents.com
Who you will meet:

Exhibitor profile:

Publicity:
Passenger Terminal EXPO will be promoted to relevant exhibition visitors and conference delegates via a carefully planned and comprehensive marketing campaign. For the 2019 event this will include:
Targeted direct mail and email campaigns to companies active in the aviation and railway sectors
Editorial coverage and advertising in an international portfolio of B2B publications that serve the aviation and railway sectors
The event website, which will be promoted via advertising and direct mail, and will provide an online registration service
Visit the Testimonials and Review pages to see what visitors and exhibitors have to say!
SKYTRAX
WORLD AIRPORT AWARDS
I thought the conference was great. There was heaps of good content and good-quality speakers. I took something away from every presentation
Shane de Wit, Director Commercial, Northern Territory Airports, AUSTRALIA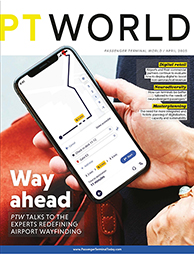 Click here for free magazine subscription + media pack