Quite possibly our BEST Conference Programme EVER!
375+ EXPERT AIRPORT & AIRLINE INDUSTRY SPEAKERS!
The conference addresses airport and airline business-critical issues and solutions, providing innovative ideas and progressive thinking for future development, and proven measures for maintaining passenger custom and satisfaction – all key to the industry's future success.
This independent and unbiased conference platform, strongly supported by major airports, airlines, aviation authorities and governments, encourages a free and frank exchange of views and ideas... Participation in such a highly authoritative environment allows attendees to be associated with a quality educational programme.
Download the Conference Programme (PDF)
Read the Conference Programme in magazine format

SEARCH the Conference Programme for words or phrases
to find all of the presentations that you will be interested in.
SKYTRAX
WORLD AIRPORT AWARDS
Very informative and a great way to learn about all the new products available to enhance the traveller's experience
Mohammed Al Katheeri, SVP Strategy and Communication, Abu Dhabi Airports (ADAC), UNITED ARAB EMIRATES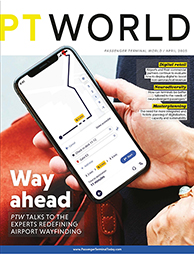 Click here for free magazine subscription + media pack